With CNC Industries being the second manufacturing company started from scratch by the Deam family, our company philosophy is based on over 45 years in the machining and fabrication business.
Our philosophy is to:
1) Hire high quality, motivated people
2) Give our people high quality equipment and tools to work with
3) Provide a clean and safe working environment
4) Provide opportunities and encourage personal growth
5) Offer training and guidance where needed
6) Allow people to make decisions within their area of responsibility
7) Get out of their way and let them do their jobs
As with any small business our primary goal is to grow the business and to generate a reasonable profit. We believe the best way to do that is to give our customers such outstanding performance in all areas, including: Pricing, Quality, On-Time Deliveries, and Customer Service, that they would be hard pressed to find a shop that can perform better.
We fully understand that we have to continually earn every bit of business that we get and we therefore take no business for granted.  Additionally, we understand that the best way to continue to earn business is by performing consistently in all areas over the long-term.
We also understand the pressure that every company has on them to reduce costs. For years now, the cost of virtually everything we purchase has been rising sharply.  In order to stay competitive, or even stay in the game for that matter, shops like CNC Industries have had to make huge gains in productivity.
Rather than moan about "global sourcing" we see it as an opportunity to rise above the competition and meet the demands for cost reduction head-on.  With the huge disparately in labor rates we will never be able to match pricing from some global suppliers.  However, when Quality, Delivery, Lot Sizes, inventory management, Shipping Costs, Customer Service, Response time, as well as many other factors are considered, global sourcing doesn't always make financial sense.
Because of the tremendous pressure on costs there is a great emphasis on "Lean" throughout the manufacturing world.  From the very inception of CNC Industries our primary focus has been on operating as efficiently (i.e. cost effectively) as possible.  Lean Manufacturing has many facets to it.  We work very actively on a daily basis to apply Lean Manufacturing principles throughout our company.
The photo below is of our daily "Pre-Flight" meetings where key people review every aspect of new as well as repeat jobs in order to improve our performance on them. As each aspect of the job is discussed two different people are entering information directly into Job Manager II.  Not only is key information added directly into the ERP database, but reminders and deadlines of things that need followed up on are sent directly to each person's Task section of Outlook. This is just one example of how we have been able to streamline data entry and reduce overhead associated with analyzing and creating critical processing data.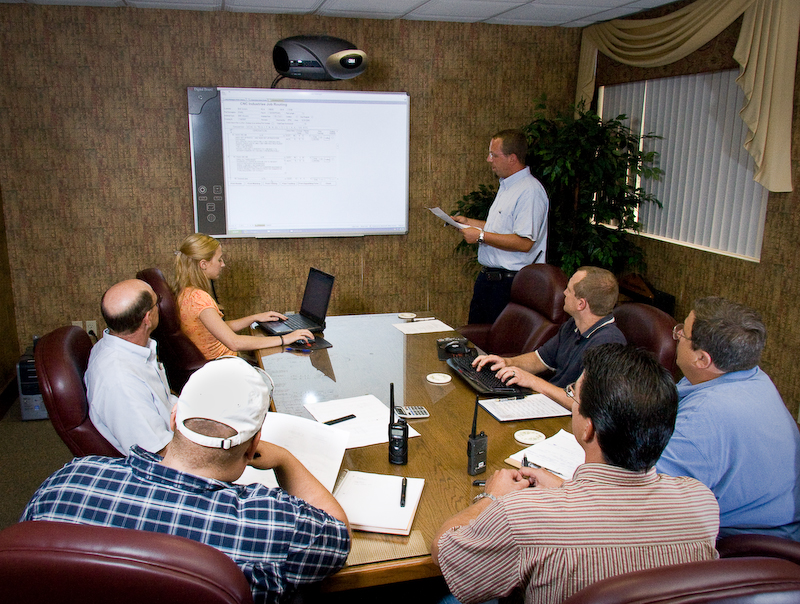 Throughout the web site you will see references to our custom designed Job Manager II ERP system. We consider the extensive work we have done in developing and deploying our custom designed ERP system to be instrumental in allowing CNC Industries to grow and remain competitive, while maintaining a nearly perfect record of On-Time deliveries and Quality performance.
For more information on Job Manager II, Click here.
We hope you will spend a little time exploring our site. If you buy machined components and have not purchased from CNC Industries before we encourage you to give us a try. We think you will find us to be a very responsive partner.
Click here to go to the Contact page.
Put our shop to work for you!