FLEXIBLE MANUFACTURING SYSTEM

The ultimate in productivity!
The Fastems 8760 Flexible Manufacturing System (FMS) integrates logistics and information flow within our manufacturing process.  Beginning with a layout design that maximizes shop floor utilization, and includes ERP and tool management, the CNC program management system accommodates the wide variety of component parts that we supply to our customers.
Lights-out production…
With optimal quantities of pallets in storage, an assisting control system, proven reliability and 24/7 operating capacity, the Fastem 8760 Multi Level System makes it easy to reach and monitor our output targets.

Fastest pallet changes…
The Fastem 8760 MLS is the highest pallet transfers-per-hour FMS in the market. That gives us headroom for future extensions or workpiece changes, and the ability to use it as a base for high volume production.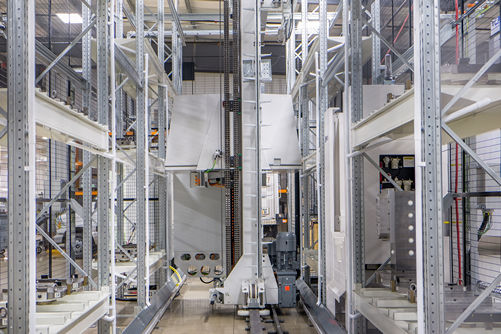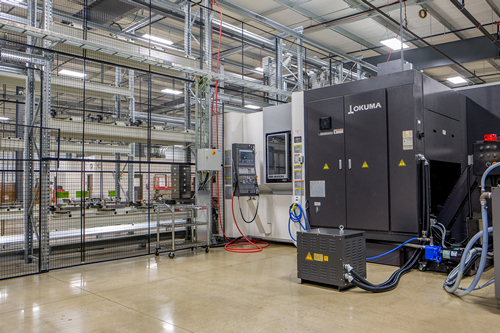 Multiple machine tool types…
Unique to the FMS market, the Fastem MLS does not limit our machine tool selection to one or two types of machine tools and pallet sizes. This gives us the ability to easily change or expand production using the same FMS.
A wide variety of FMS modules provide the most flexible approach to manufacturing.

Integration of material logistics flow and billets within the FMS for automatic just-in-time delivery.

The fastest pallet transfers in the market.

Supports multiple machine types for maximum flexibility

Planned and designed for extendibility as demand grows

With pallets in storage, an assisting control system, and proven reliability, MLS makes it easy to reach and monitor our output targets.

Integrated logistics management frees operators from repetitive tasks

Proactive pallet scheduling frees our operators from juggling too many resources, thereby optimizing our manufacturing process.

Real time visibility provides the information we need to make good decisions

Centralized tool and NC program management, while optimizing fixture usage

Ability to track KPIs, investigate the effect of an urgent production order, or view a complete production scenario

Manages all aspects of scheduling: Kanban, JIT, Pull System, inventory, batch sizes, material purchases, customer notifications, etc.

Provides unprecedented real-time information with which to make timely decisions.

And many, many more functions…
Manufacturing Management System MMS5
Fastems MMS is the industry's most versatile FMS control. It is an open, machine tool independent system that does not require separate software for NC program, tool, material or production order management. The MMS production suite is a completely modular software solution, giving us the freedom to choose just the functionalities we need. Additionally, it's easy to upgrade our system if our needs change over time, for example adding manual production cells.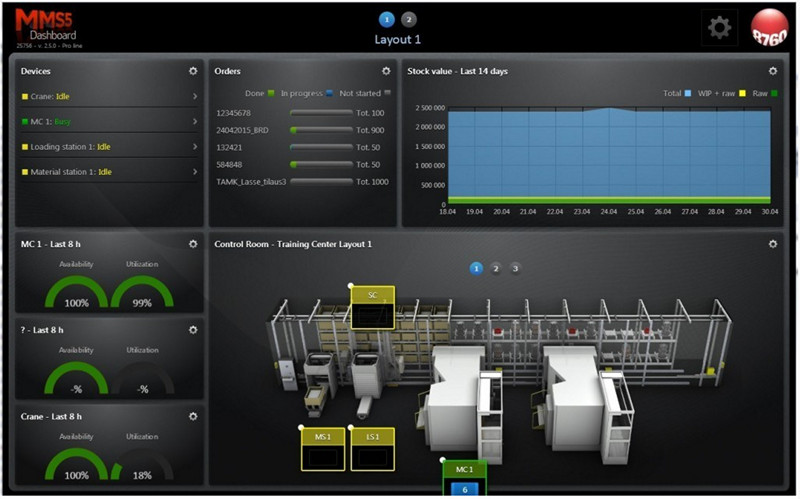 Looking toward the future!
Our Flexible Manufacturing System by Fastems is designated model 8760 by them because that's how many hours there are in a year.   Our goal will be to get as near 24/7 machine utilization as we can.  
Not only does this system give us much higher productivity per machine, it also gives us much greater scheduling flexibility.  Combined with our extremely capable ERP system the FMS has greatly expanded our overall capacity to produce parts for our customers. 
At the present time we have good supply of pallets available to put your work on!
Put our Flexible Manufacturing System to work for you!